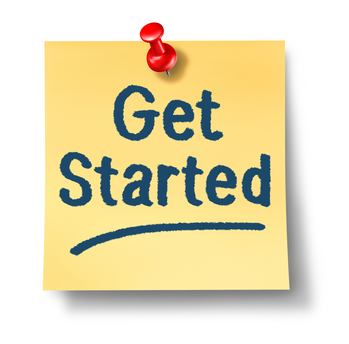 GETTING STARTED
The opportunity for coaching is very exciting. Before you get started, read through the information below. A good many of your questions will be answered. After reading through this information, give me a call. I'm looking forward to getting to know you!
HOW ARE COACHING AND THERAPY DIFFERENT?
This is a common question. Coaching and therapy are different, but can be complimentary. Therapy is a process where you uncover and begin to understand events in the past that may still be causing difficulties. The emphasis is on healing so that you can achieve closure and move on with your life. Coaching is not so concerned with the past. In coaching you will look at how your past has impacted you, but you won't spend much time there. The coaching focus is on the present and helps you move forward by identifying and beginning to use your strengths and gifts. Together, you and I will collaborate and design your life the way you would like for it to be. Coaches do not diagnose mental disorders, but I can and will refer you to therapy should the need arise. Many therapists and coaches work together. For some people this is an ideal situation, but for others coaching or therapy alone might be the answer. I can help you decide whether you would benefit most from therapy, coaching, or a combination of the two.
HOW DOES COACHING WORK?
Coaching is conducted weekly or biweekly on the phone. Sessions are usually 45 minutes.    Appointment times are agreed upon by you and I and they tend to be recurring at the same time each week or every other week.  In the first session information will be gathered and this information will guide you and I in deciding upon the direction your coaching is to take. You will lead the process at all times. It is your life and you will decide upon the direction of each session. You will be asked to submit a call stratgy form prior to each session which will indicate the topic or topics you wish to discuss. As your coach, I will ask questions, make requests, and challenge you to reach your goals. Unlimited E-mail support is available between sessions at no additional charge. Live coaching between sessions is available at a reduced fee for those things that just can't wait.
WHO WILL BENEFIT FROM COACHING?
Coaching will benefit anyone who is ready to:
Improve their relationships.
Take charge of their lives, living intentionally rather than accidentally.
Put some action into making changes in their lives.
Stop dreaming about what they would like and start designing it.
Discover how their thinking style and limiting beliefs might be standing in their way.
Assume responsibility for changing their limiting beliefs which will change the way they live their lives.
Be willing to develop systems and strategies to help their lives go smoothly.
Move forward even when they are scared, feel stuck, or lack direction. Leaps of faith are sometimes required!
This is your invitation to coaching. Without direction and action, your ideal life lives only in your imagination. Discover the difference that working one on one with your own professional life coach can make!
HOW DO I KNOW THAT TEREASA IS THE RIGHT COACH FOR ME?
The coaching relationship is intimate – you must trust and feel safe with your coach. The best way to find out if she is the coach for you is to schedule an appointment with her so that you can decide whether working together would benefit you. There is no charge for this introductory appointment. For your free introductory appointment, use our contact form.
HOW MUCH DOES COACHING COST?
There are many options available for coaching.  Most sessions are 45 minutes sessions, but in some cases they are shorter in length or spaced further apart.  In addition to private sessions, group coaching, programs, and teleclasses are available. The fee varies with the options you choose.  If you would like more information,
WHAT WILL I GET OUT OF COACHING?
At it's best Coaching provides support, acceptance, and a safe space for you to explore various aspects of your life so that you can decide where you want to go and how to get there.
It teaches you how to think, not what to think
It empowers you to move forward with your life with confidence in your ability to think your way through any difficulty that might arise.
Through illuminating questions, you will begin to see the world from a new perspective.  This opens up all kinds of new possibilities and choices that had not been available to you previously.
WHERE DO I GET MORE INFORMATION?
If you have additional questions or would like to schedule a time to talk please contact me.