Is "framily" the new family? It's true
friends
can feel just as close as
family
– and in some cases –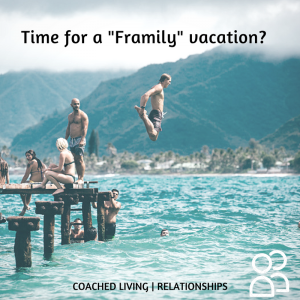 even closer than blood relatives. One popular trend is taking a Framily Vacation – which can include a mix of friends and family or even all girls "girls' trip" or "bro-cation" if it's an all-male trip.
As a friendship coach, I discuss the value in good connection, communication, and companionship – all of which can be accomplished by "getting away from it all" and unplugging together.
I've asked Lindsey Martin, travel consultant at
Nichols Travel
based in Edmond, OK to provide some basic tips on planning a framily vacation this summer.
1. Planning is half the fun!  Have get-togethers to get everyone's thoughts and ideas and a budget. You could create a Facebook Group Page to help with communication and bouncing around ideas and sharing links to places you are considering.  You can also create a Pinterest group page to share ideas and inspiration. You can make the board Private if you only want a few sets of eyes to see it.
2. Pick a destination that has something for everyone.
3. Be flexible!
P.S. I also love a good group t-shirt 🙂 – LM, Nichols Travel
Thanks, Lindsey. Readers, keep in mind that just like your own family, in your own friend group, you may have diverse personalities, living styles, and income levels. Consider doing some activities together and giving each other some free time to explore on your own or pair up for things certain members of the group wish to do. Maybe one set would like to hike while the others would prefer to shop. Eat in or dine out? Do you know if your friends are early birds or night owls? All things to discuss before you make the trip together. If it's your first vacation together, consider a weekend trip first to see how the group meshes before a longer stay away.
The plus-plus is that friendships do feel our souls so making time to spend together will create memories you can share together forever.